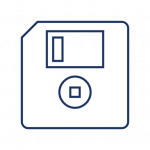 Advanced Information Management System
Advanced Information Management System (AIMS) has been created to support information management system and address specific needs of ITU and its members. It provides mutual and secure client authentication and ensures interoperability among diverse set of information systems. AIMS is integrated with external audit trail systems. 
Security
Interoperability
Trust
Ownership
Security
Encrypt everything
End-to-end encryption between client and server.

Sensitive information stored in encrypted format within IRP Records.

All information encrypted before being stored on disk.

Uses latest cryptographic algorithms.
Multi level authentication & authorization
All messages are signed using a unique private key which can be verified using its matching public key. 
Interoperability
Trust
Ownership